Any abrasive that cleans or finishes a surface is known as sandblasting media. This blasting causes the surface to erode under control. Sandblasting media are fine-grained particles cleaned of impurities. Depending on the required blasting results, it's available in various grades of coarseness. When employed, media must be dry because wet media will clog the machinery and prevent it from being recycled through the system. When choosing a sandblasting medium, manufacturers should consider the surface they are blasting, and the desired finish. Read More…
Sandblast Media
Sandblast media are abrasive particles which, when combined with a stream of pressurized air or water, are used to change the properties of a surface. Sandblast media can be a collection of silica, ground corn cobs, walnut shells, garnet, copper slag, cut wire and a wide variety of other materials.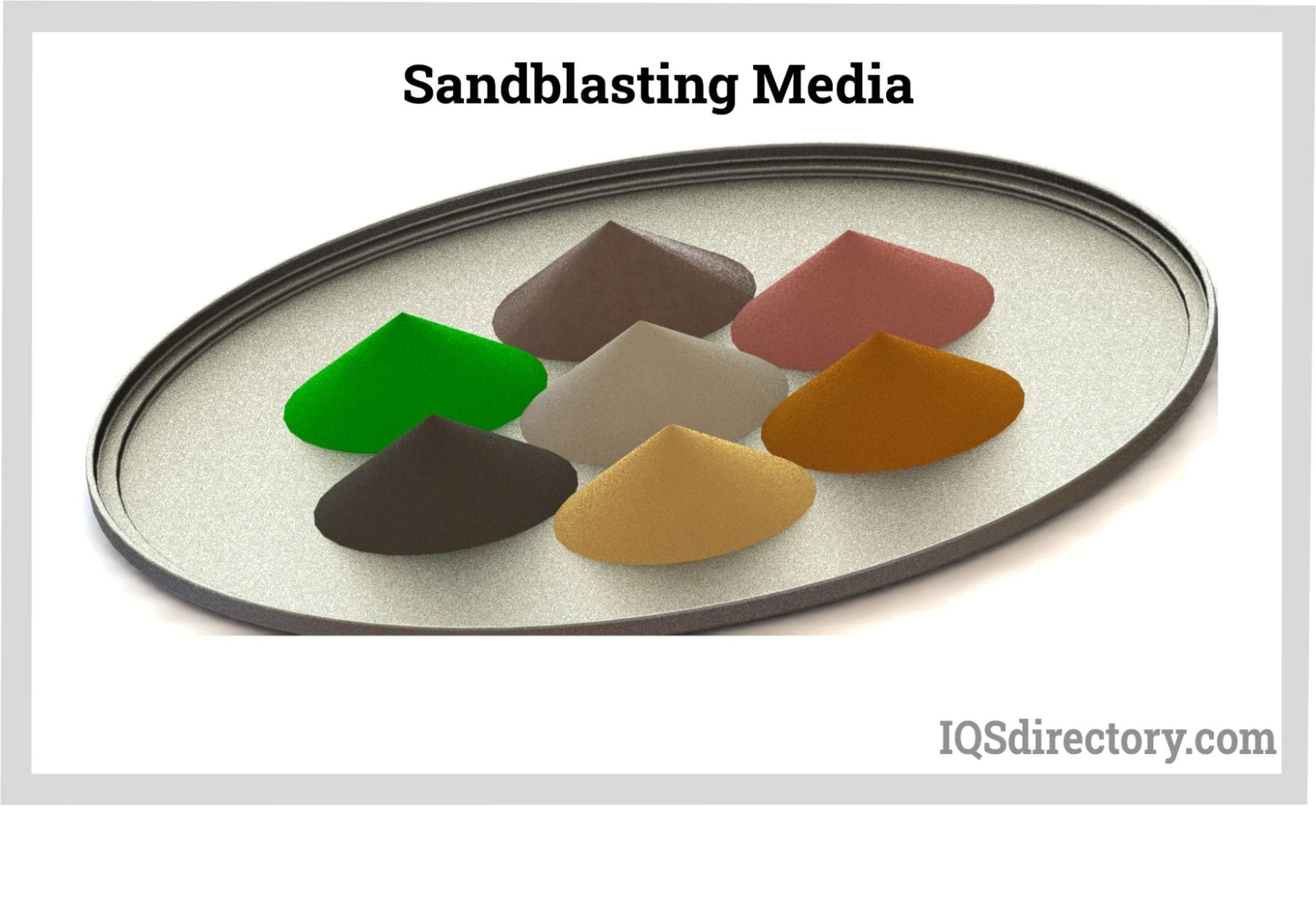 To remove impurities or generate etching, media blasting uses compressed air to blast an item with various kinds of grit (referred to as media). These media don't harm the surface they're used on. Understanding the different forms of media is useful when tackling the demands because they have different purposes.
Types of Sandblasting Media
Aluminum oxide
Aluminum oxide is a sandblasting media used worldwide. Aluminum oxide has remarkable sharpness and durability. It is offered in a range of grit sizes and hardness grades. As a result, it might deliver an especially gritty blast, but it can thoroughly clean, deburr, grind, and polish hard-constructed metals. Aluminum oxide has a few benefits, including being inexpensive, adjustable, and recyclable.
Steel shots and grits
Steel is another common sandblasting medium. Although steel grits and steel shots are formed from different types of carbon steel, both are rounded. To remove materials and polish the surface, a steel shot is a succession of tiny steel balls fired at the surface.
Steel grit effectively removes many impurities when an aggressive approach is required. It works well on metal. Steel grit is mostly used for heavy-duty sandblasting tasks, including deburring, preparing surfaces for epoxy coating, and more. This media is available in a wide range of sizes and hardness.
Plastic Blasting Media
Plastic can have abrasive properties. Plastic blasting media provides consistent and standardized performance, therefore, it's ideal for rapid stripping. Plastics are frequently the best option when removing paint from fragile metals, plastic, automobile surfaces, aerospace materials, or composites. This is the optimum sandblasting media if one needs to remove organic coatings without harming the surface of the underlying component.
The availability of plastic media in all conventional sizes, hardness, shapes, and densities, as well as their ability to be created to meet various purposes, are a few of their key benefits. They also have a long lifespan, are recyclable, and contain no silica.
Crushed Glass
Crushed glass is a versatile, environmentally friendly sandblasting medium created from used glass bottles. It is a medium that is semi-abrasive and effective for removing paint as well as, occasionally, fiberglass and wood. Crushed glass makes for an intensive treatment to remove thick coatings and contamination on the surface because of its sharp edges and angular contour.
Materials that are fully safe, non-toxic, and devoid of free silica and heavy metals are used. It uses far less material than other methods—as little as half as little—because it is so much lighter. As a result, it has many benefits, including being fully inert, non-toxic, and safe to use around water. Additionally, because it is transparent, operators can see what they are doing, increasing productivity.
Glass Beads
Glass bead blasting media are harmless, non-toxic, and silica- and heavy metal-free, similar to crushed glass. The metal is left bright and smooth at the end of the operation because the pre-formed ball shapes polish as they blast. Additionally, professionals can recycle these materials numerous times. Due to their softness and glittering look, glass beads are a popular sandblasting medium.
Glass beads are the preferred medium when a metallic surface needs to be prepared for spray liquid painting or powder coating. They can also remove paint and rust coatings. Glass beads have many benefits, including being lead-free and recyclable.
Silicon carbide
Silicon carbide is currently the toughest material for sandblasting. Silicon carbide cuts with lightning speed. This substance has a blocky grain texture and is available in various sizes, from coarse grit to fine powder. Whereas coarse grit is used to remove mill scales, fine powder is used to polish granite and other hard rocks. Of all the blasting media, it is the most recyclable. It is frequently employed to etch glass and stone. One of silicon carbide's benefits is that it doesn't generate static electricity, and because of its hardness, sandblasting can be completed more quickly.
Benefits of sandblasting media
Removal of rust: As things deteriorate slowly over time, rust and corrosion can spread. Rust and corrosion can be eliminated by media blasting, leaving the product with a smooth surface.
Effective Preparation: Sandblast media can efficiently prepare industrial items for additional treatment. This eliminates uncertainty in coating and painting and enables assured marketing.
Higher Quality Goods: Customers can get superior tanks and products thanks to corrosion protection and a rust-free surface.
Effective Painting: A product will be prepared for coating or painting after being properly prepped with sandblasting media. The paint will adhere better, and look better.
Damage Prevention: A product can be kept stronger for years with a media blitz followed by a coat of protective paint.
Choosing the Proper Sandblast Media Supplier
To make sure you have the most positive outcome when purchasing sandblast media from a sandblast media supplier, it is important to compare at least 4 or 5 companies using our list of sandblast media suppliers. Each sandblast media company has a business profile page that highlights their areas of experience and capabilities and a contact form to directly communicate with the supplier for more information or request a quote. Review each sandblast media business website using our patented website previewer to get an idea of what each company specializes in, and then use our simple RFQ form to contact multiple sandblast media companies with the same form.
Sandblast Media Informational Video